Seed project development process
Seed projects are small, risky and complex researcher-led projects, funded 200k for up to two years. This is our process for developing the projects:

Stage 1 - Release Call for Proposals (CfP)
Funding priorities are set for each round and SfTI releases a Seed Project Fund Call for Proposals (CfP). This includes all applicants need to know to prepare and submit a research proposal: eligibility, application process and timeline, assessment criteria, and support mechanisms, for example information webinars with Q&A sessions.
Stage 2 - Proposals submitted
Applicant research proposals are submitted by contracting organisations.
Stage 3 - Assessment
Proposals are initially screened for eligibility and SfTI technical theme alignment*, then moved through the assessment process. SfTI has a unique ballot process for selecting and drawing proposals. The ballots are defined by our funding priorities. There may be up to three ballots: one for Vision Mātauranga (VM), if necessary one for other priority areas, plus a General ballot. In the 2021 funding round, the Priority ballot was for Early Career Researchers (ECRs) whereas in earlier rounds no priority was separately balloted.
How the ballot process works
To start with, the Assessment panel members review the proposals then come together as a Panel to discuss and decide whether they meet the science quality criteria for the technical research themes, before moving them through the ballot process.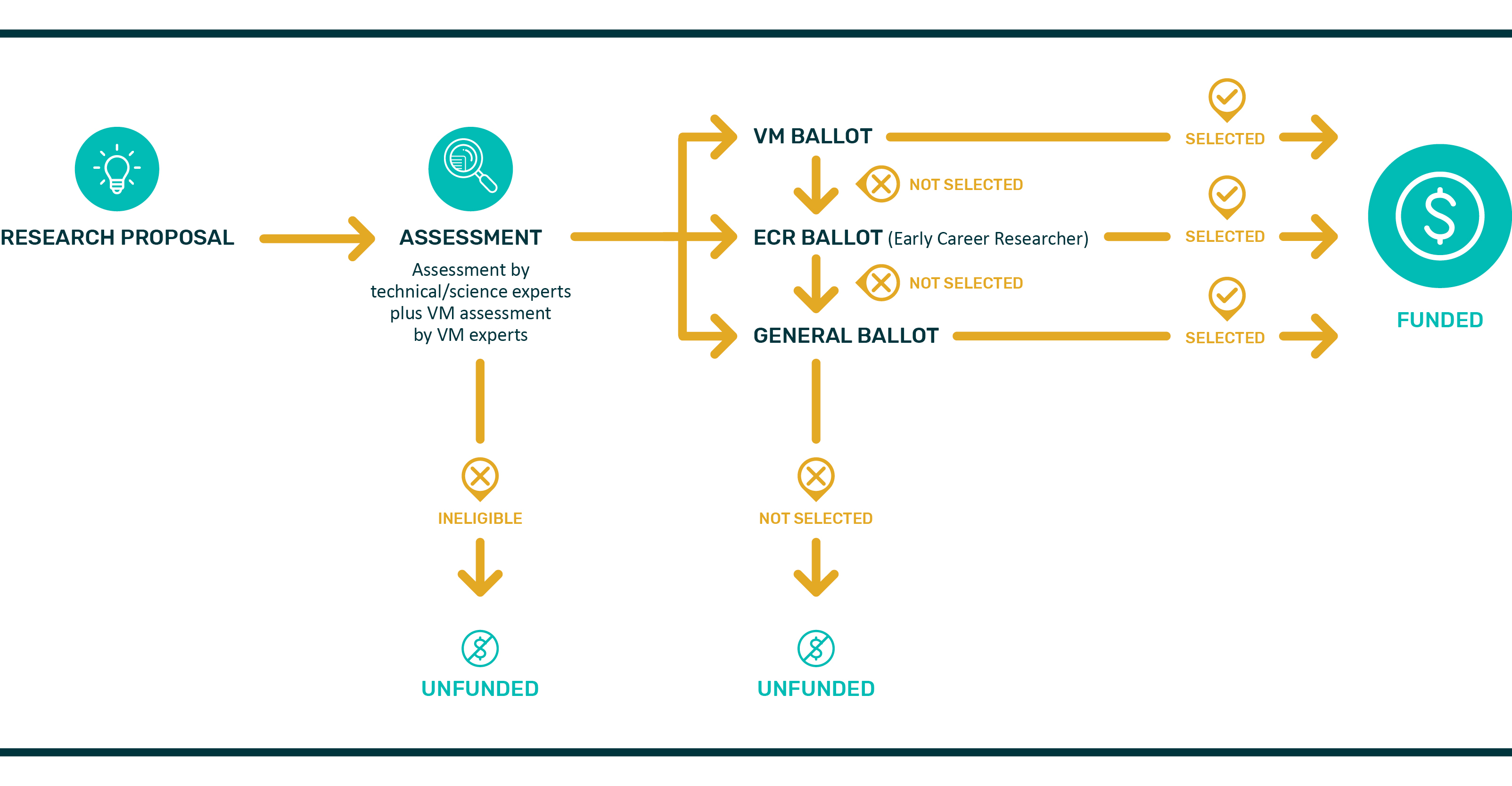 VM Ballot
VM aligned proposals are further reviewed by VM experts for alignment based on three principles/pou outlined in the CfP document. Proposals that sufficiently meet both VM criteria and science quality criteria are selected for the VM ballot. VM proposals that are drawn through the ballot process are funded. Those that are not drawn are considered for the Priority Ballot, if eligible. If they are not eligible, the proposal is considered for the General ballot.
Priority Ballot
For the latest 2021 Kaupapa Kākano Seed Fund, the priority ballot is for Early Career Researchers. Proposals are reviewed by the Assessment panel to ensure they meet the priority criteria. Those proposals that sufficiently meet both the priority criteria and the science quality threshold are selected for the Priority Ballot. Proposals that are drawn through the ballot process go on to be funded to meet the target funding for the priority; those that are not drawn are considered for the General ballot.
General ballot
All proposals that meet the science quality threshold and were not drawn in the VM or Priority ballot are selected for the General ballot. The General ballot draw occurs after the VM and Priority ballots and continues until all remaining available funding is allocated
To conclude the Assessment process, all applicants are then notified of their submission outcome via email including feedback.
Stage 4 - Contracting
SfTI Theme Leaders work with the Principal Investigator of successful proposals to make sure that any milestones/stage-gates are small in number and sensible and achievable. Once this is complete, the research project details are discussed and confirmed, and a research contract is prepared for signing by SfTI and the contracting organisation.
Stage 5 - Project initiation
Once the full project team can be named and are available (a delayed start is permitted for the recruitment of research personnel), the project starts and funding payments begin.
Stage 6 - Researchers join the SfTI community
Once the contracting process is complete the Seed research team joins the SfTI community. Benefits of being part of the community include wrap-around support for: Professional development (Capacity Development) to build your networking and relational skills; Vision Mātauranga support and advice; Commercialisation support and advice; Research mentoring with your allocated SfTI Theme Leaders.
Stage 7 - Critical step review including progress reporting (opportunity to pivot)
The progress and health of a Seed project is measured against key milestones (critical steps and stage gates) through a combination of annual reports and online performance monitoring tools. SfTI recognises that not all research will go to plan and if necessary, a science pivot can be negotiated to ensure the desired research outcomes and impact are achieved. Mentoring of researchers by SfTI theme leaders and Capacity Development continue throughout each project.
Stage 8 - Project reaches goals and finishes
During the project life, SfTI's Commercialisation Development Manager will work alongside the Seed project lead and the relevant technology transfer offices (TTOs) to guide research achievements towards investor readiness and/or economic impact.
SfTI is a collaborative community that remains connected with researchers after Seed project funding has finished. For example, participating in further research, monitoring and supporting further technology development and commercialisation, collaborating with other teams, or joining select Capacity Development (professional development) events.
* Technical research themes: Sensors, robotics and automation / Data science and digital technologies / Materials, manufacturing technology and design