Funding & get involved

Pūtea me te whai wāhi
Science for Technological Innovation National Science Challenge invests in two types of research projects - Seed and Spearhead projects. On this page you'll find out how out to apply for Seed project funding or get involved in a large Spearhead project.
---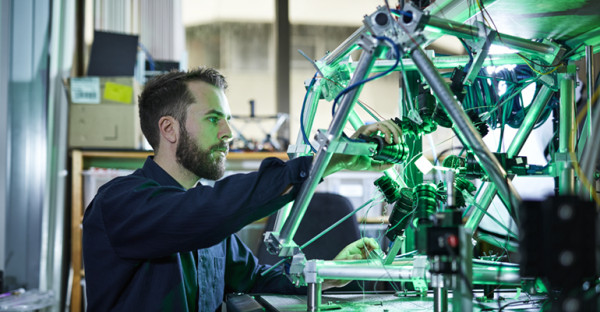 Image credit: Matt Crawford, NZ Story
Seed project fund
The Seed project fund is intended to bring in new ideas and new researchers to the SfTI community. Our Seed projects are smaller, high risk, technically complex, projects based on ideas developed by researchers themselves.
Funded for up to two years with a maximum of $200,000 per project. Since 2016 SfTI has funded 54 Seed projects, with funding rounds typically held every year. Learn more about the projects we have funded.
Apply for Seed project funding
Our last Seed Projects funding call closed on 20 March, 2020. We are currently assessing project proposals to initiate these new Seed projects from 1 July 2020. Funding applicants will be notified of their results via email in the week beginning Monday 15 June, 2020.
Future calls will be announced here, and you can also keep up-to-date with our latest news by:
Get involved in a Seed project
If you would like to express an interest in being part of a current Seed project, you can do so any time by contacting the lead researcher, their names can be found on the Seed project page and contact details can be found on their institution's website.
---

Spearhead projects
Spearheads projects are large Mission-led research projects developed in consultation with Maōri and industry. The projects span more than three years and are funded up to $1m per annum. They are made up of cross-disciplinary, multi-organisational research teams that are formed through a Mission Design process, learn more about this process further down this page.
Get involved in a new Spearhead project
We will be calling for Expressions of Capability (EoC) from researchers to participate in new Spearhead projects in the coming months. The EoCs will be published here, and we will notify your institution's research office. Read on to find out more about our upcoming and recently closed EoCs. You can also keep up-to-date with our latest EoC news by:
Upcoming Expressions of Capability
Biosecurity Tech
In the coming months, we plan to release a formal call for Expressions of Capability (EoC) for researchers to register their relevant capability to be part of a SfTI Biosecurity Technology research project with our National Science Challenge partner, New Zealand's Biological Heritage | Ngā Koiora Tuku Iho.
Recently closed Expressions of Capability
Clean Water Technology
In December 2019, we called for Expressions of Interest (now called Expressions of Capability) from researchers to support the implementation of a new Spearhead project arising from the Clean Water Technology (CWT) Mission Lab. Applications closed on 7 February 2020.
Get involved in a current Spearhead project
If you would like to express an interest in being part of a current Spearhead project, you can do so any time by contacting the lead researcher, their names can be found on the Spearhead project page, and contact details can be found on their institution's website.
---
The purpose of a Mission-led process
The purpose of our Mission process is to develop high-level technology missions that will support the next step change in our economy, and explore opportunities that New Zealand can exploit in the hi-tech sector over the next 10-20 years.
Our Missions need to be sticky (relevant to NZ) and stretchy (complex and challenging).
The aim of our process is to be as collaborative as possible, while continuing to learn and adapt as we go - this may mean at times this process evolves to get the best results. Here's how it works…
Stage 1 - Mission Labs and mission identification
Mission Labs are facilitated events that bring together leaders from industry and Māori organisations to decide on high-level missions for SfTI to pursue. This is where we put high-level ideas to the test and make sure that they are broadly supported by industry and Māori. Read reports from the 2017 and 2018 Mission labs.
Stage 2-4 - Mission Design
Stage 2
From the Mission Labs we continue to work together through lots of consultation to fully scope the mission topic and identify the technological research that could support the mission, as well as gauge interest from the research community.
Stage 3
The next stage of Mission Design is to select and form best research teams to help us hone the mission toward a Spearhead project. This involves aligning researcher capabilities with our mission to build new cross-disciplinary, multi-organisational teams.
This process is not typical for New Zealand science. Instead of asking research teams to compete for funding, we pose a mission identified from the Mission Lab and then ask researchers for expressions of capability to be part of a Spearhead project team. This is a unique opportunity for researchers to bring their capability to the Mission Design workshop, not a specific project."
Stage 4
The researchers then work with the SfTI Leadership Team in a Spearhead planning workshop. The purpose of this workshop, and the post-workshop proposal development stage, is to refine the focus of the mission to form one brand new Spearhead project.
That can be a challenge for some – to work in a truly new, inter-disciplinary team, however SfTI is there to support the researchers through this journey.
Stage 6 - Manage and periodically review
The progress and health of a Spearhead project is measured against key milestones (critical steps) through a combination of six-monthly reports and online performance tools. SfTI recognises that not all research will go to plan and if necessary, a pivot can be negotiated to ensure the desired research outcomes are achieved.
A Science Quality Review is carried out on all projects by an independent panel of local and international science experts to provide assurance to the SfTI Board that the Spearheads are meeting SfTI's goals of 'sticky' (relevant and specific to New Zealand) and 'stretchy' (complex and challenging) research. The Review typically occurs around the middle of the five-year research phase, and actionable feedback is provided to all teams.
Stage 7 - Project reaches goals
SfTI's Commercialisation Development Manager will work alongside the Spearhead leaders and the relevant technology transfer offices (TTOs) to guide research achievements towards investor readiness and/or economic impact.
Stage 8 - Finished
SfTI is a collaborative community that remains connected with researchers after a Spearhead project has finished. For example, participating in further research, collaborating with other teams, or joining select Capacity Development events.