Professional development

Whakawhanaketanga ngaio
SfTI offers its researchers, a professional (capacity) development programme to support them to take their careers to the next level.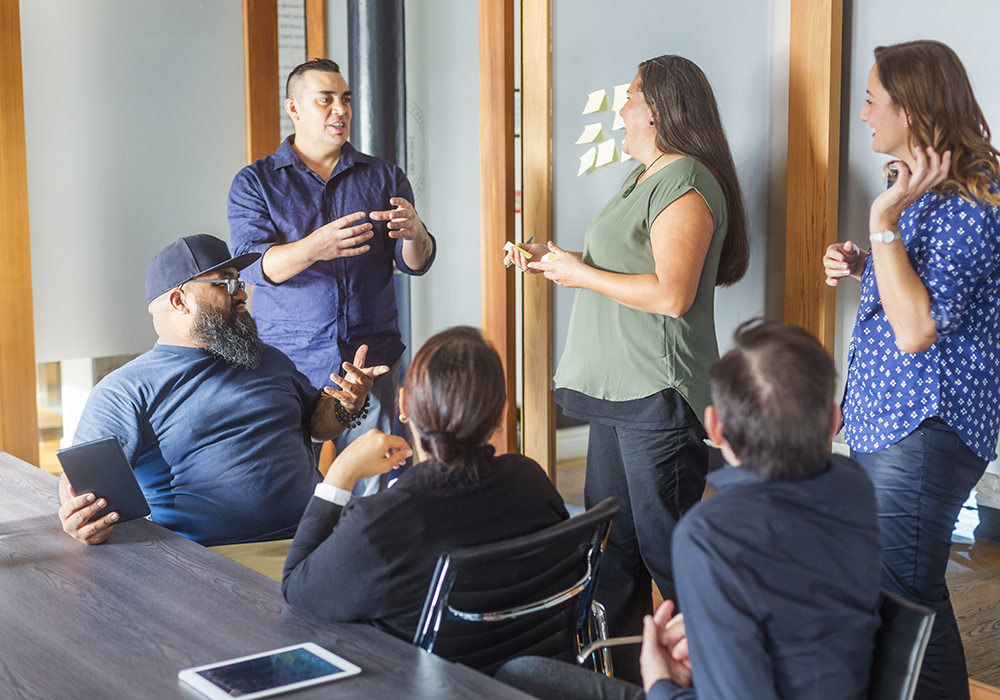 About SfTI's Capacity Development Programme – Hei whakatipu āheinga
SfTI's unique professional development programme supports researchers to build their human (soft skills) and relational (networking) capacity – we call it our Capacity Development Programme. We provide SfTI researchers the opportunity to develop their skills to:
collaborate, connect and lead with confidence
engage with Māori and industry
bring their research closer to commercialisation.
This is a separate fund for SfTI researchers, over and above their existing project funding. Read on for more details on eligibility, criteria, upcoming events and how to apply.
---
Funding eligibility and criteria
If you're a SfTI researcher, you can apply for funding to attend external workshops, courses, conferences, showcases, secondments and mentorship programmes. You can apply for funding to cover costs such as:
national workshop or conference registration
costs for consultancies and mentorships
travel costs
accommodation costs.
---
Things to consider in your application
To be successful in your funding application, you need to consider how the opportunities will support you to develop you human (soft skills) and relational (networking) capacity. For example:
Conference attendance outside your area of expertise to develop new contacts with innovators, industry or Māori is considered relational capacity development or;
Attending a workshop on leading people, is a human capacity building opportunity.
Funding does not include:
Activities that can be classed as science 'business as usual'. For example, conference attendance to present to your familiar science community colleagues – this is considered a core research activity.
International conference travel.
For more information on what expenses we cover, refer to our expenses reimbursement policy, available here:
How to apply
To apply for funding fill out our online form, and the Capacity Development team will be in touch to discuss your options, alternatively you can contact us directly if you have some questions:
---
Upcoming Capacity Development events
Here's a few upcoming Capacity Development opportunities that SfTI researchers can register for. If you would like to apply for funding for other development opportunities, you can apply through our online form in the section above – 'How to apply', or contact us if you need more information about applying.
Note, this is not a full list of the activities we support, and you can find some more suggestions at the bottom of this page.
Science Media Centre Video training workshop
Share your research with video – the fastest growing communication tool. Learn how to plan, film, edit and publish short videos using only a smartphone or tablet with the Science Media Centre video training workshop. SfTI researchers who attend the training, will be invited to participate in a video competition. The winner's videos will be showcased, and announced at the SfTI 2020 annual Researcher Workshop.
Where: Auckland CBD, event location to be confirmed
When: Postponed due to COVID-19, new dates to be confirmed soon.
Register: Spaces are limited, so register your interest by emailing Ryan.Rangiwhetu@callaghaninnovation.govt.nz with your name, and phone number. Travel expenses are included, and the workshop will be catered.
Find out more about the workshop, and watch some videos made by researchers, who have attended the workshop.
Science Leaders Programme (SLP)
The Science Leaders Programme is a 6 month online course designed to help you to deliver better results, more easily, by strengthening:
Your confidence in your ability to lead others,

Your ability to influence others to give their best efforts, and

Your ability to navigate complexity and make good judgments.
The programme will now be delivered online, to navigate the uncertainty of Covid-19. It includes a strong emphasis on personal interaction with Lawrence and developing a learning community.
When & Where: Online delivery Feb-Aug 2021 [confirmation required]
Register: If you are interested in registering for this course please contact Ryan.Rangiwhetu@callaghaninnovation.govt.nz with your name, and phone number.
SfTI's Researchers Workshop 2021
The Researchers Workshop is usually an annual event held in November over two days, however due to Covid-19, we postponed the 2020 workshop.
Our next Researcher's workshop will take place in 2021. We will be delivering it in a new format to allow for the uncertainty caused by Covid-19, while also maximising opportunity for face-to-face relationship building within our SfTI community. We look forward to seeing you there.
Register: Details to follow, in the coming weeks.
Find out more about SfTI's annual Researchers Workshop here.
---
Feedback
Your funding has been approved and you really enjoyed your experience, or you're not sure it was right for you. Whatever your feedback – we want to know! This feedback is a condition to the funding you receive and will help us find suitable future opportunities for our research community.
Once you training event has finished, you can find the online feedback form here, and don't worry if you forget, one of the team will be in touch with a reminder.
---
Suggested capacity development activities
The following organisations provide a range of workshops, courses, conferences and training that you may want to consider as capacity development opportunities. We also support other opportunities not listed here.