Professional development

Whakawhanaketanga ngaio
SfTI offers its researchers, a professional (capacity) development programme to support them to take their careers to the next level.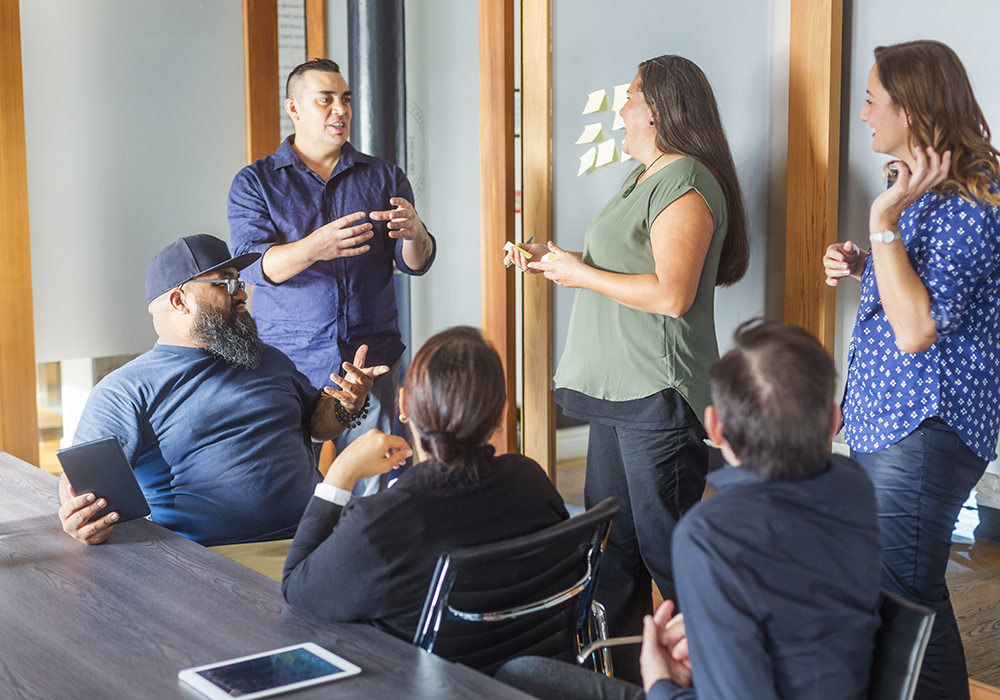 About SfTI's Capacity Development Programme – Hei whakatipu āheinga
SfTI's unique professional development programme supports researchers to build their human (soft skills) and relational (networking) capacity – we call it our Capacity Development Programme. We provide SfTI researchers the opportunity to develop their skills to:
collaborate, connect and lead with confidence
engage with Māori and industry
bring their research closer to commercialisation.
This is a separate fund for SfTI researchers, over and above their existing project funding. Read on for more details on eligibility, criteria, upcoming events and how to apply.
---
Funding eligibility and criteria
If you're a SfTI researcher, you can apply for funding to attend external workshops, courses, conferences, showcases, secondments and mentorship programmes. You can apply for funding to cover costs such as:
national workshop or conference registration
costs for consultancies and mentorships
travel costs
accommodation costs.
---
Things to consider in your application
To be successful in your funding application, you need to consider how the opportunities will support you to develop you human (soft skills) and relational (networking) capacity. For example:
Conference attendance outside your area of expertise to develop new contacts with innovators, industry or Māori is considered relational capacity development or;
Attending a workshop on leading people, is a human capacity building opportunity.
Funding does not include:
Activities that can be classed as science 'business as usual'. For example, conference attendance to present to your familiar science community colleagues – this is considered a core research activity.
International conference travel.
For more information on what expenses we cover, refer to our expenses reimbursement policy, available here:
How to apply
To apply for funding fill out our online form, and the Capacity Development team will be in touch to discuss your options, alternatively you can contact us directly if you have some questions:
---
Feedback
Your funding has been approved and you really enjoyed your experience, or you're not sure it was right for you. Whatever your feedback – we want to know! This feedback is a condition to the funding you receive and will help us find suitable future opportunities for our research community.
Once you training event has finished, you can find the online feedback form here, and don't worry if you forget, one of the team will be in touch with a reminder.
---
Upcoming Capacity Development events
Here's some upcoming Capacity Development opportunities that SfTI researchers can register for and attend at no cost. If you would like to apply for funding for other development opportunities, you can apply through our online form in the section above – 'How to apply', or contact us if you need more information about applying.
Note, this is not a full list of the activities we support, and you can find some more suggestions at the bottom of this page.
Regional SfTI Researcher Workshops 2021
This year we would like to invite SfTI researchers to host their own regional Researchers Workshop instead of our annual Researchers Workshop. The annual Researchers Workshop is usually an in-person workshop held in November over two days, however due to Covid-19, it is unlikely we will have the opportunity to gather all researchers together in 2021.
Regional workshops will give you the chance to strengthen local relationships, maximise immediate opportunities and take advantage of the opportunity for face to face relationship building in a safe way.
Get in touch with your project or theme leader to discuss how a bespoke, local event can help you achieve your professional development goals in your region. We can provide logistics support so send us your ideas for your hui today!
If you would like to host a workshop or have questions, please contact Ryan.Rangiwhetu@callaghaninnovation.govt.nz
Capacity building webinars
Ngā Taonga Tuku Iho: Wai 262 and the National Science Challenges
The Rauika Māngai hosted two webinars in July 2021 to help us understand the implications for Aotearoa's science system of the current all-of-government work to resolve long-outstanding issues related to the Wai 262 Waitangi Tribunal claim – and provide an opportunity to discuss how the final stage of the National Science Challenges could provide a unique environment for responding to these issues.
Resilience, wellbeing and mental fitness – SfTI webinar with Dr Paul Wood
In these challenging, far-from-normal times, work, life and research demands are putting pressures on us in ways we have not experienced previously. In October 2021, the SfTI National Science Challenge hosted a one-hour webinar for our researchers with Dr Paul Wood, psychology and wellbeing professional. In this webinar, Dr Wood shares his tips on how to maintain wellbeing and mental fitness during current challenges.
If you are a funded SfTI researcher, you can request to watch the webinar by emailing the Capacity Development team, Raewyn Tse Raewyn@conference.nz or Ryan Rangiwhetu Ryan.Rangiwhetu@callaghaninnovation.govt.nz
---
Suggested capacity development activities
The following organisations provide a range of workshops, courses, conferences and training that you may want to consider as capacity development opportunities. We also support other opportunities not listed here.