Kāhui Māori - Advisory Group
Kāhui Māori ensures Vision Mātauranga and Te Ao Māori (Māori world view) principles are embedded across SfTI. The Kāhui Māori group guides SfTI researchers on incorporating Vision Mātauranga into their research so the science and innovation potential of Māori knowledge, resources, and people can be unlocked to benefit New Zealand.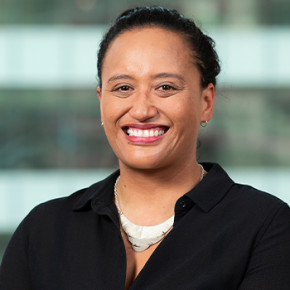 Nancy is Kaihautū of the Kāhui Māori. She is 'Project leader & Pou Pūtahitanga - Manager Ao Māori-Science Interface' at Institute of Environmental Science and Research Ltd (ESR). She has a background in materials science and polymer chemistry.
Her research interests stem from mātauranga Māori based on traditional uses of indigenous fibres (e.g. harakeke, kiekie, ti kouka etc.) and how these natural resources might gain contemporary use in fibre reinforced composites.
Her work focuses on bio-based, sustainable, polymers such as advanced bio-adhesives for wood panel composites and degradable plastic alternatives. She is also involved in wood and fibre processing, and fermenting fungal species as anti-microbial colourant.
Kaihautū - Dr Nancy Kay Garrity
(Ngāti Makirangi, Ngāti Pāoa, Ngāti Hine)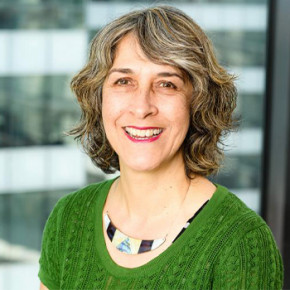 Before joining Otago University in 2008, Katharina's early career included teaching in management roles, as well as five years as education manager and project consultancy with Te Rūnanga o Ngāi Tahu.
Katharina joined Otago University's Dean's Office in April 2017 to provide leadership and strategic advice to the Business School on the University's Māori Strategic Framework.
As well as being a Kāhui Māori member, Katharina leads Vision Mātauranga in SfTI's Building New Zealand's Innovation portfolio and is a member of the senior management team.
Katharina's research focuses on innovation and Māori business, including developing science capacity to respond to the growing Māori economy.
katharina.ruckstuhl@otago.ac.nz
DDI: +64 3 479 4916
Dr Katharina Ruckstuhl
(Ngāi Tahu, Rangitāne)
Theme Leader - Vision Mātauranga, and Co-Theme Leader of Building New Zealand's Innovation Spearhead project
Vanessa's career spans over 25 years predominantly in the education, information and communication technology sectors. She has a rich and diverse background – from New Zealand local government, to the launch of an IT start-up in Hong Kong and London and 11 years with the multinational Cisco Systems Inc. in Sydney and Silicon Valley, USA.
Since returning to Aotearoa in 2011, Vanessa started a small boutique consulting company supporting Māori with innovative ICT solutions and start-up businesses. In 2017, she joined a local technology company and in 2020, moved into a Māori engagement role at the University of Waikato to develop relationships with iwi, hapū and mana whenua supporting Māori aspirations across the research, science and innovation system and to support researchers to engage more effectively with iwi and hapū, Māori communities and organisations.
Vanessa was a founding member of the Ka Hao Māori ICT Development Fund Expert Advisory Group in October 2015 and in December of the same year appointed to the Te Māngai Pāho board - a post she holds today. She is a member of the Kāhui Māori, Science for Technological Innovation and member of Te Mana Raraunga network advocating Māori Data Sovereignty rights and interests.
Vanessa also serves on Te Whakakitenga o Waikato (tribal authority) representing Te Kotahitanga marae and was elected to the tribal executive, Te Arataura for 2021-2023. She is the Te Arataura ex-officio appointment to the Waikato Endowed Colleges Trust and represents Waikato-Tainui on the Joint Management Agreement with Hamilton City Council.
Her varied roles are built around her passions for technology, education and Māori economic development. She lives in Whatawhata with her two children Matteo and Nadia and can often be seen supporting her children on the sideline of their chosen sports.
Vanessa Ngaroimata Clark
(Waikato; Ngāti Tiipa, Ngāti Tahinga, Ngāti Āmaru)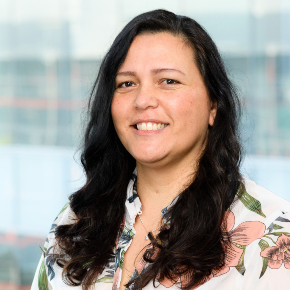 Before joining Victoria University's Centre of Science in Society as a Senior Lecturer, Pauline Harris's research interests focussed on gravitational microlensing, gamma ray bursts, high-energy neutrino production and inflationary cosmology.
Having focussed on physics in her early career, Pauline is now focussed on mātauranga Māori associated with Māori astronomy, traditional Māori calendars called Maramataka, climate change and sustainability. Pauline has been involved with the revitalisation of Māori astronomical knowledge for over 20 years and is currently the Chairperson of the Society of Māori Astronomy Research and Traditions (SMART).
Pauline also is part of the MacDiarmid Institute as a Principal Investigator and is on the Science executive.
Pauline's role at SfTI is to provide support and oversight to our aims, aspirations and implementation of Vision Mātauranga, and to support Maori researchers, communities and iwi to unlock the science and innovation potential of their knowledge, resources and people.
+64 4 463 5233 ext 8047
Dr Pauline Harris
(Rongomaiwahine, Ngāti Rakaipaka and Ngāti Kahungunu ki Wairoa)
Theme Leader - Vision Mātauranga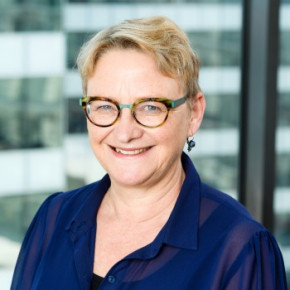 Professor of Management at Victoria University Business School, and former Commissioner with the New Zealand Productivity Commission (2011-March 2020), Sally's academic life began as a research chemist.
An Emeritus Investigator with the MacDiarmid Institute for Advanced Materials and Nanotechnology, Sally is also a Principal Investigator with Te Pūnaha Matatini, which develops methods and tools for transforming complex data into knowledge.
With research interests covering the commercialisation of scientific research, entrepreneurship and the growth of high-tech firms, innovation strategy and policy, Sally has led research grants covering projects on competitive advantage in New Zealand firms, and sustainability and firm-level productivity in our biotechnology and food and beverage sectors.
Sally is also an Adjunct Professor in the College of Business and Economics at the Australian National University, a Fellow of the International Society for Professional Innovation Management, and a member of Global Women.
DDI: +64 4 463 5144
Professor Sally Davenport
SfTI Director
Rangatahi observers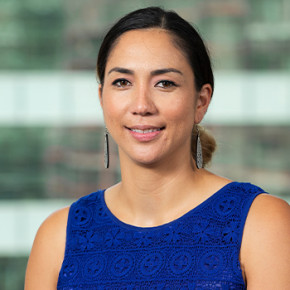 Te Rina is a reporter with Te Karere, and is passionate about telling stories with a Māori lens.
She holds a Bachelor in Māori Development majoring in Māori Media, and a Graduate Diploma in Business. Te Rina was raised in Gisborne and came through the area's first language nest at Te Iti Kahurangi Kohanga Reo and Kura Kaupapa.
She is an accomplished dancer, musician and performer, and is a graduate of the Māori governance course Ka Eke Poutama.
Te Rina Kowhai
Ngāti Porou me Ngāpuhi
I was fortunate to grow up knowing where I come from and being exposed to Māori customs and processes. I am humbled to be groomed by the old people, who keep encouraging me to pursue te wāhi ngaro.
I am very lucky to have had opportunities to facilitate and participate in Rangatahi wānanga locally and nationally, and lead conversation in youth development and indigenous knowledges, as well as tech development and implementations at local, national and international levels. As a graduate of the Animation college ( class of 2015 Rotorua) and a founding member of ForCompanyB. Ltd which is group of Rotorua-based animators, content creators, storytellers and IT leaders, I feel responsible to promote Māori ideology.
Te Mauri Kingi
Tuhourangi, Ngati Whakaue