Exploration in search of Biosecurity impact
11 December 2020 | Read time: 6 minutes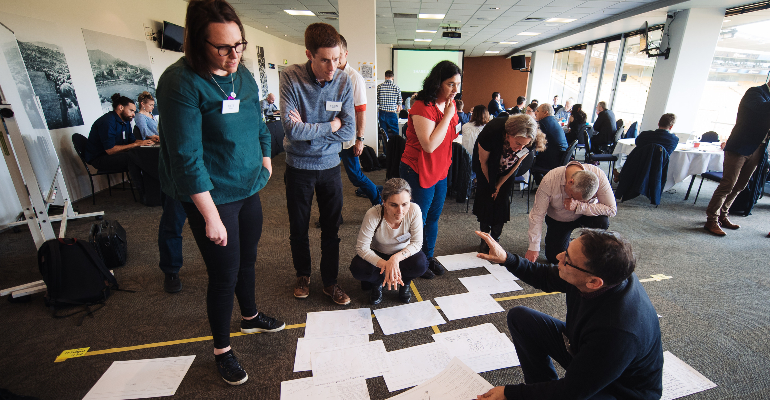 SfTI's Biosecurity Technology Mission moves into next phase.
Following an online workshop in September and a face-to-face meeting in Wellington in November, SfTI's Biosecurity Technology Mission has now shifted towards its third phase. This is part of an eight step Mission Lab process and involves the development of a Spearhead Research Proposal and assembling the best team to execute it.
The online and in-person workshops brought together a multidisciplinary group of nearly 50 researchers and biosecurity experts to identify the big challenges and opportunities within biosecurity. They then developed and ranked suggested technological solutions based on their potential impact plus their use of technologies which pushed the boundaries.
A collaborative process
In partnership with National New Zealand's Biological Heritage | Ngā Koiora Tuku Iho National Science Challenge, SfTI asked for Expressions of Capability earlier this year, and from these identified a broad group of Aotearoa's leading biosecurity and technology experts. The group was encouraged to look outside their own projects and research interests, to discuss future focussed and scientifically ground-breaking opportunities.
Workshop attendee, Desi Ramoo, Strategic Relationships and Partnership Manager for the Biological Heritage National Science Challenge, outlined what was different about this group and SfTI's Mission Design process itself:
"This group is actually here to do something unique, in terms of exploring the art of the possible."
Leveraging Aotearoa's unique strengths
As with all SfTI research, each Mission is required to demonstrate how it would leverage Aotearoa's unique strengths, capabilities and resources to take a measurable, future-oriented leadership position.
We are uniquely positioned to combine both Māori philosophies such as kaitiakitanga (guardianship of the biosphere) and mātauranga Māori when developing biosecurity technology.
Te Tira Whakamatki Operations Manager and member of the Biological Heritage National Science Challenge Leadership team, Tame Malcolm, explains how important biosecurity is to Aotearoa New Zealand's unique economy:
"The Māori economy is between 50 and 60 billion dollars and underpinning all of that is Biosecurity."
Big challenges and big opportunities
Our focus for the Biosecurity Technology Mission is to create new technology, with potential global impact, to better protect us from harmful biological elements such as non-indigenous flora, pathogens, marine pests, insects, and mammalian species.
The group discussed areas where technological innovation could exponentially improve biosecurity outcomes, including pest management and border control. The group initially mapped out the 'problem space' and found two areas for consideration; Predators, pests and threats that already exist within the landscapes of Aotearoa and those that could invade our borders at any time.
Board Chair for NZ Product Accelerator, Steve Wilson, outlined one area looking for technological solutions right now: "Our current government has a vision of creating the world's smartest borders. So we want to do things like check for explosives. We need to look for signs of sickness and at the moment elevated temperatures and heart rates might only be a start. We need to find a way to detect biomarkers of COVID-19."
For workshop participants working within pest management in Aotearoa there was a clear opportunity in using our landscapes as inspiration for innovation. Technology designed to function in our remote terrain, not only would improve biosecurity outcomes, but would create cutting edge tech with multiple applications and markets around the world.
Predator Ecologist for ZIP (Zero Invasive Predators), Helen Nathan, articulated the key questions to which she felt new technology could provide an answer: "When you are working at scales like this, how do you detect or monitor the presence of predators? And what tools and technologies can we get that will help us actively search for these predators without just sitting and waiting?".
What's next: Assembling a team best placed to develop new science with impact
During the face to face workshop, the group developed 19 ideas and then shared, discussed and ranked these ideas into five potential research areas, which included exploring technological advances in the areas of autonomous nano robots, next generation sensors, data management, battery and materials technology and artificial intelligence/machine learning.
We are now reviewing the research ideas generated at the workshop: focusing on those most preferred by participants and ranked as having the greatest potential impact and science stretch, as well as identifying the researchers who may be best equipped to lead the development of those ideas into a Spearhead project research proposal.
It is clear that partnership with Māori has a central place in developing best approaches that lead to improved health and wellbeing. The eventual project research will incorporate mātauranga Māori, and be overseen by an advisory group to bring together the necessary range of perspectives and expertise.
Tame Malcolm explains that it is important to approach this project and Biosecurity within the wider context of Aotearoa:
"It's a bit more holistic and aligned with te ao Māori views and values to look at it as a whole big picture - rather than just biosecurity".

NIWA Marine Ecologist, Leigh Tate, talked about his view on the potential outcomes from the Mission design workshops. He says, "My expectations of this mission are that the goals will be really ambitious, potentially increasing our status as world leaders in Biosecurity in Aotearoa New Zealand."