Meeting the Challenge
2 October 2015 | Read time: 3 minutes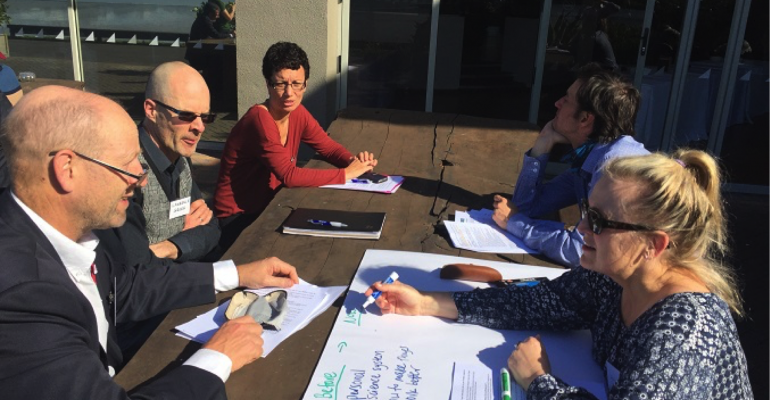 A spirit of whakawhanaungatanga was alive and well when researchers from across the country joined together for two days of networking, collaboration and inspiration.
The first researchers' workshop helped the team to get to know one another and Challenge leaders, and become familiar with the purpose and aims of the Challenge.
Director Margaret Hyland and the management team outlined their roles and responsibilities before Challenge Chair and former Fisher & Paykel CEO John Bongard explained how science and technology made the white-ware manufacturer a world leader.
Sir Ray Avery inspired and entertained with tales from his early life living rough in London before becoming a scientist in the UK, Technical Director at Douglas Pharmaceuticals and then a founder of the University of Auckland's Department of Clinical Pharmacology.
Researchers discussed their professional interests and career highlights, before breaking out into groups to talk about capacity development as it applied to them.
A key aspect of the Challenge, capacity development enables researchers to better connect with industry and other end-users, and means different things to different people, depending on their needs.
Young Māori social entrepreneur Shay Wright gave his perspective on how researchers might engage better with Māori stakeholders in the innovation process.
Shay spoke with precision and purpose and it was easy to see why he was named one of Asia's top 30 social entrepreneurs under 30 years by Forbes Magazine in early 2016.
Imbued with a spirit of enthusiasm and potential, researchers broke into their Portfolio teams to discuss how their programmes could help the Challenge realise its vision of a vibrant and prosperous, technology driven future New Zealand economy.
Over 95 per cent of those researchers who gave feedback said the workshop had given them a better understanding of the purpose of the Challenge. They felt better connected to their colleagues and felt confident to talk about the Challenge's mission to stakeholders.