Te Taka Keegan (Waikato-Maniapoto, Ngāti Porou, Ngāti Whakaaue) appointed Co-Chair of SfTI Board.
29 March 2022 | Read time: 4 minutes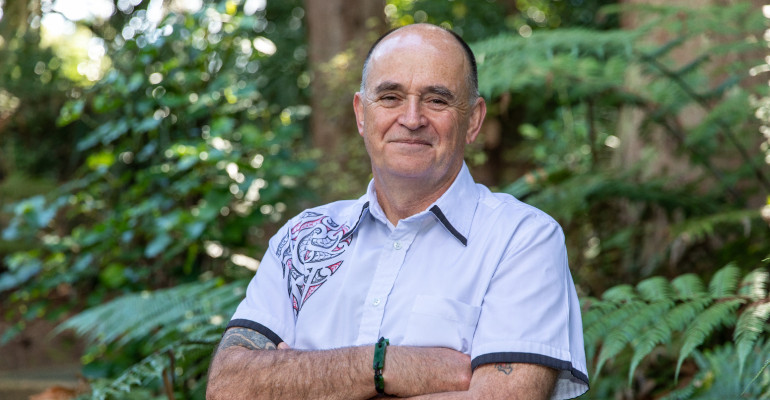 The Science for technological Innovation, Kia Kotahi Mai - Te Ao Pūtaiao me Te Ao Hangarau, National Science Challenge (SfTI), are excited to announce the appointment of Te Taka Keegan as Co-Chair to the Board.
Te Taka Keegan is already a longstanding member of the SfTI community and was the inaugural Kaihautū of SfTI's Kāhui Māori, who ensure Vision Mātauranga and Te Ao Māori principles are embedded across SfTI. In a step toward a model more reflective of Tangata Whenua and Tangata Tiriti, Te Taka Keegan will now Co-Chair the Board alongside current Chair Linda Cooper.
Award-winning company director, recognised business leader and SfTI Board member since 2021, Traci Houpapa (Waikato Maniapoto, Taranaki, Tūwharetoa) MNZM, was the driving force behind establishing this new working model for the SfTI Board.
"I'm passionate about ensuring that we're working in a way that best reflects Tangata Whenua and Tangata Tiriti. I felt that we needed to shift the governance structure to capitalise on the wealth of capability SfTI has in Te Ao Māori principles and bring that to the governance table." She said.
"After consultation, the Board supported the Co-chair model, to achieve this while keeping the Kāhui Māori free to operate as a technical advisory. And Te Taka Keegan is a perfect person for this role." Said Traci Houpapa.
Te Taka is an Associate Professor in Computer Science at the University of Waikato. He has worked on several projects involving Te Reo and technology. These include the Māori Niupepa Collection, Te Kete Ipurangi, the Microsoft keyboard, Microsoft Windows and Microsoft Office in Māori, Moodle in Māori, Google Web Search in Māori, and the Māori macroniser. In 2009 Te Taka spent six months with Google in Mountain View as a visiting scientist assisting with the Google Translator Toolkit for Māori.
Current SfTI Board Chair, Linda Cooper, looks forward to the depth of knowledge that Te Taka Keegan will bring to this new role at the Board table.
"I am humbled and excited to be working together with Te Taka and learning from the knowledge and experience that he will bring to our board decisions. We have already benefited hugely from that during his time as Kaihautū of the Kāhui Māori, but this new board structure will enable us to continue to deliver on SfTI's mission with a model that truly reflects a Tiriti partnership approach" Said Linda Cooper.
Te Taka Keegan will begin this new role and stand down from his role within the Kāhui Māori this month.He feels this new Board structure reflects an already strong leadership direction within SfTI.
"I am very excited and quite inspired by the foresight of the SfTI Board to first suggest and then support a Board structure that embodies a Tiriti partnership model. It highlights a depth of foresight and character in the key personnel of SfTI's Board and SfTI's leadership group."
"I look forward to working with these people to further enhance the innovation of Aotearoa - New Zealand in the technological sector... hei aha, hei hiringa hangarau hei oranga tangata... for the benefit of all. " He said.
Te Taka Keegan will be replaced in his leadership role with the Kāhui Māori by an experienced researcher Nancy Garrity (Ngāti Makirangi, Ngāti Pāoa, Ngāti Hine). Already a member of the Kāhui Māori plus 'Project leader & Pou Pūtahitanga - Manager Ao Māori-Science Interface' at Institute of Environmental Science and Research Ltd (ESR), Nancy Garrity has a background in materials science and polymer chemistry.