PM's Chief Science Advisor says hui with Māori experts 'Ka rawe!'
20 February 2019 | Read time: 3 minutes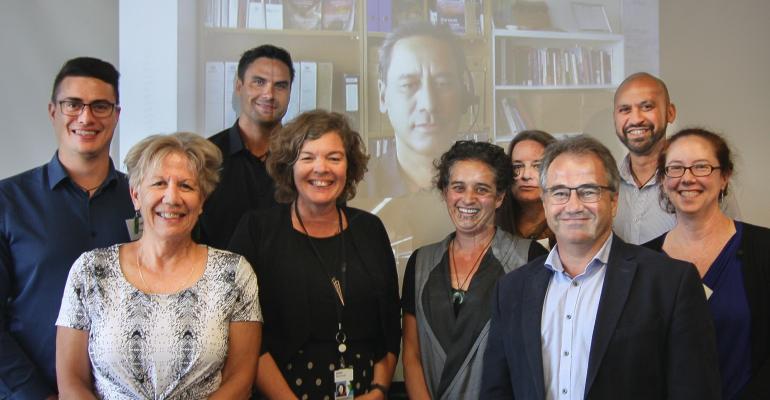 The SfTI Challenge was delighted to host a hui this month for the Māori experts who are playing leading and advising roles within each of the 11 National Science Challenges.
The Rauika Māngai group is embodying the wisdom of Te Ao Māori by working jointly across the Challenges to build the voice and influence of Māori in science. It gathers together three or four times a year to share insights from the Challenges, build connections and look for opportunities to work together in support of each Challenge. It is chaired by Dr Jessica Hutchings, who is a director and research leader for the Building Better Homes, Towns & Cities Challenge.
This month, SfTI hosted Te Rauika Māngai and the group's special guest Professor Juliet Gerrard, the Prime Minister's Chief Science Advisor, who is also a SfTI researcher.
Juliet told the group that the Māori world view brings huge value to science and is a resource that's yet to be fully realised.
"There is real value in the weaving together of wisdom from Te Ao Māori and Western Science."
SfTI director, Professor Sally Davenport, says the Challenge has whole-heartedly adopted the principles of Vision Mātauranga, which inform all aspects of SfTI's approach.
"While there's a lot of work to do in building Māori participation in science, by expecting our researchers to consider what Mātauranga Māori can bring to their research, we hope to help make science research a positive option for Māori, and a better environment for everybody."
The SfTI Challenge manager Vision Mātauranga and capacity development Dr Willy-John Martin is deputy chair of the Rauika Māngai
"As well as belonging to the wider Rauika Māngai, SfTI is guided by its own Kāhui Māori (advisory group), which holds us to account in integrating Vision Mātauranga into everything we do."
At this month's meeting Te Rauika Māngai focused on ways to support young Māori researchers, increase Māori participation in science, and the importance of succession planning. The group also discussed upcoming possibilities for collaboration across the Challenges.
Juliet is also embodying a Te Ao Māori approach by learning Te Reo. After the hui she tweeted with the help of the group "Ka Rawe! Hui with Te Rauika Māngai. Hei whakapakari, hei whakaora i te pūnaha pūtaiao", which means 'Awesome! Meeting with the Rauika Māngai. Exploring ways to strengthen and breathe new life into the science system.'
Learn more about Vision Mātauranga
Meet the SfTI Challenge Kāhui Māori advisory group
Visit the website of the Prime Minister's Chief Science Advisor, Professor Juliet Gerard