SfTI Challenge researcher numbers near 200
18 December 2017 | Read time: 2 minutes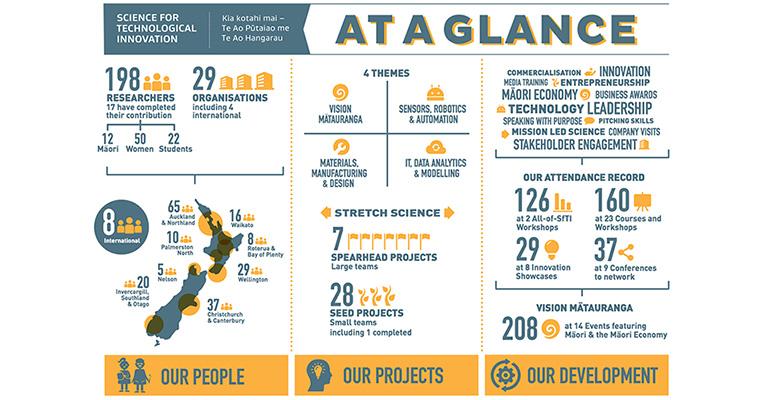 Nearly 200 Science for Technological Innovation (SfTI) National Science Challenge researchers now work on 35 projects at 25 local, and four international, organisations.
Launched in September 2015 as a 10-year, multi-million dollar investment, SfTI aims to grow a future high-tech New Zealand economy through physical sciences and engineering.
Announcing its new 'At-A-Glance' explainer infographic, Director Sally Davenport says SfTI's approx. 198 researchers include 50 women, 12 Māori, and 22 students. All work on projects relating to SfTI's four Themes: Vision Mātauranga; Sensors, Robotics and Automation; Materials, Manufacturing and Design; and IT, Data Analytics and Modelling.
"SfTI researchers represent some of the best physical science and engineering talent on offer, with a large number drawn from our 12 partner organisations.
"Their focus is on 'mission-led' research, that is excellent, stretch science that will have impact for New Zealand," Professor Davenport said.
In the last two years SfTI has funded a diverse range of large and small projects, from refining the action of drug-containing implants to treat brain cancer, to controlling spray droplets in flight, simple Nitrate sensor arrays, and investigating Blockchain technology for use in secure, distributed systems of information collection.
The Challenge's partner organisations include AUT, and Auckland, Waikato, Massey, Victoria, Otago, Canterbury, and Lincoln Universities, AgResearch, SCION, Lincoln Agritech and GNS Science.