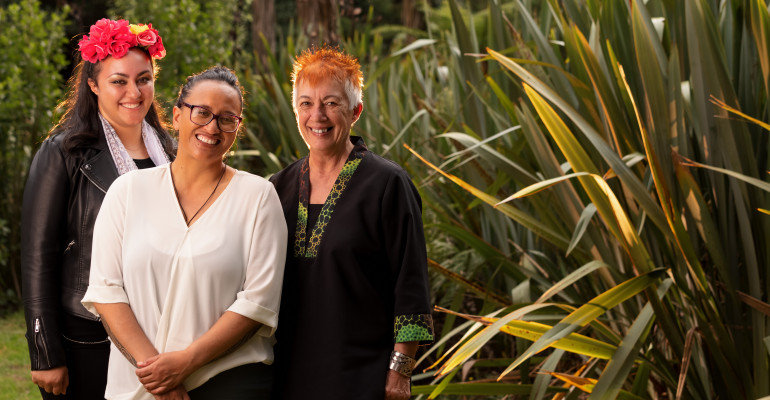 Dr Nancy Garrity
Catapulting brand Aotearoa-NZ to the world stage with mātauranga Māori and tech
Contact Dr Nancy Garrity to express an interest in her project
Dr Nancy Garrity alongside mātauranga Māori practitioners kuia Leilani Rickard and her mokopuna Anastasia are developing a polymer composite material with tī kōuka using traditional tikanga-led fibre collection and extraction techniques. This material is set to compete with synthetic fibres and catapult brand Aotearoa-NZ to the world stage.
Aligning mātauranga Māori to a science context
The asset base of the Māori economy is estimated at over $68 billion and this research team is about to build on that. By combining Māori and western science, they're contributing to a more sustainable and prosperous future for Māori, and Aotearoa.
Dr Garrity received SfTI 2019 Seed Project funding to investigate the chemical and physical properties of the Cordyline species as a natural fibre alternative for use in polymer composite materials. We see polymer composite materials (or fibre reinforced plastics) used in a variety of high performance applications such as the material used in aircrafts, automobiles (e.g. steering wheels), sports equipment (e.g. tennis rackets, skis). They are tough, lightweight and waterproof.
Cordyline australis is commonly known as the cabbage tree, tī kōuka or cabbage-palm. Traditionally, Māori relied on Cordyline (Tī) species for demanding outdoor environments. Fibres extracted from the tōi species (C. indivisa / mountain cabbage tree) leaves were used to make raincoats, and leaves of tī kōuka were used to make ropes and baskets. Tī kōuka has a distinct advantage (e.g. strength, moisture resistance) over many plant fibres due to its chemical composition and structure.
More recently natural materials such as wood fibres, flax and hemp have been used to create natural fibre reinforced plastics: the team is now stretching science boundaries to include tī kōuka. What's more, these reinforced plastics composites made from natural fibres and bioplastics are more sustainable, in comparison to glass fibre reinforced petroleum based plastics.
Interweaving fashion and science
Dr Garrity (Ngāti Makirangi, Ngāti Pāoa, Ngāti Hine) is working with the grandmother and granddaughter team - Leilani (Ngāti Rangiwewehi, Tuhourangi, Ngāti Rangitihi, Ngāti Whakaue) and Anastasia Rickard (Ngāti Whakaue, Ngāti Porou, Te Arawa, Tainui). This duo have hit the international runway with their fashion label 'Natura Aura', and are now applying their traditional Māori harakeke (flax) weaving expertise to extract fibres for testing in the lab.
With the support of Katarina Tawiri and with access to the tī kōuka plantation at Manaaki Whenua, the team have extended their curiosity and expertise from harakeke to tī kōuka, Dr Garrity says.
"The team's knowledge is vital to our research. They're the ones that are going to tell me how the harakeke and tī kōuka compare by exploring and observing how the fibres feel and what it's like to extract them. And we'll be able to align scientific analysis (morphological, mechanical, chemical) that complements that exploration and understanding."
Through the expertise and facilities provided by Scion, the team have found that the traditionally extracted fibers are a lot stronger and more aesthetically pleasing than chemically pulped fibers, such as wood, linen and hemp.
Dr Garrity has also partnered with legal consultant, Tai Ahu (Waikato, Ngāti Kahu, Te Paatu) to advise the team on best practice methods to protect and implement mātauranga Māori - so it's widely available, but in a way that protects indigenous knowledge.
Watch this 2min video to learn more about the team's mahi and Leilani and Anatasia's mātauranga Māori:
"It's about having the right people to support me. Often our non-Māori scientists will go to the first collaborator and they might not necessarily have that expertise or mātauranga in their back pocket. In this instance, Māori are often seen as the brown face and the potential signature for a research proposal. In other words, one Māori becomes the representation of all Māori, so the richness, value and depth of knowledge can be lost."
In her role as Pou Pūtahitanga - Manager Ao Māori-Science Interface, ESR, she advocates for western scientists, with a firm focus on kaupapa Māori – realising benefits and best impacts for Māori.
She is also a member of the SfTI Kāhui Māori advisory group whose role is to ensure te ao Māori principles are embedded across SfTI, whilst guiding our researchers to do this in their work.
Dr Garrity's advice to researchers seeking to partner with Māori is to: choose the right collaborator, to foster genuine collaborations, and be open to co-design and co-leadership.
She explains further: "Too often Māori are consulted at the end of a research project or tacked on as advisors. Māori have a different set of values and priorities compared to the western science approach. To ensure genuine participation and to ensure there's room for kaupapa Māori - you need to prioritise choosing the right Māori partner from the start and agree how to work together to create mutual benefit."
Watch this short video to hear more from Nancy and the benefits that collaboration can bring to taking your science to the next level:
Creating space to grow Māori tech futures
Securing STE(A)M futures for Māori is key to a prosperous future for Aotearoa. Given this, Māori often feel alone and unsupported in a western science system for a number of reasons including low numbers of Māori (and women) in STEM and under representation of Māori (and Pacific peoples) in academic leadership positions.
Despite her challenging journey in western science, Dr Garrity remains optimistic, she says: "After 12 years of being in the industry, I can see a slow change: I'm beginning to see enthusiasm through the ranks to properly implement te ao Māori, seeing the value of te ao Māori and mātauranga, and the potential of te ao Māori to set our science apart internationally, and this is something we can all build on together."
And she offers some advice for our rangatahi considering science as a career:
"Science is exciting and challenging. Navigating the science system is hard, especially for Māori and those who don't fit the 'norm' of science - but it's slowly changing with an increased interest in mātauranga Māori. So don't give up. There are people like us who are there waiting and building safe spaces for our rangatahi to be Māori and scientists. Wait for us, we're coming! Hold on, hold on to being Māori."
Hear more from the team about how bringing together multiple cultural perspectives can supercharge Aotearoa's technological future:
Building the capabilities of our researchers in-and-out of the lab
To help bridge the gap, SfTI is focussed on building the capacity of our research community to collaborate with Māori organisations and industry, alongside developing impactful new technologies.
Through our Capacity Development Programme we fund our researchers to pursue professional development opportunities, with the aim of developing key connections and pursuing pathways to commercialisation. Dr Garrity shares her experience:
"SfTI been really generous in providing training, including leadership training which I'm undergoing. Also if you have an idea or a piece of research that you'd like to get some advice on, they provide that as well. SfTI aren't just another funding stream, they're actually providing wrap-around support to help researchers succeed."
Top photo caption
Project team (from left to right): Anastasia Rickard, Dr Nancy Garrity and Leilani Rickard. Location credit: Whakarewarewa School.