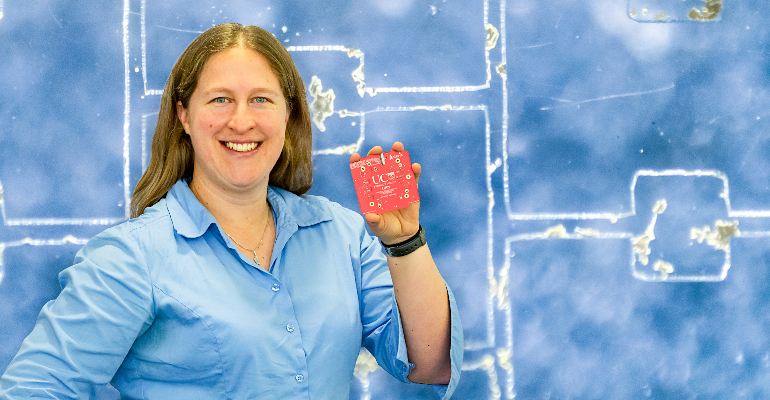 Dr Sarah Kessans
Launching a space lab into orbit
Dr Kessans received $200,000 of 2019 Science for Technological Innovation National Science Challenge (SfTI) Seed Project Funding to develop a space biology laboratory to work towards growing microorganisms in free flying satellites. This was followed by further funding as part of the The Ministry of Business, Innovation and Employment (MBIE)'s Catalyst: Strategic Space 2019 fund.
"My passion is synthetic biology – I want to develop organisms both for Earth but also off the Earth as well for food and fuel and pharmaceuticals. I want to be able to grow microorganisms in space that are optimised for doing these things," she says.

SfTI's Seed Fund supports researchers who have innovative ideas with potential for huge impact. Few have a bigger impact than Dr Kessans, whose work could enable the production of life-supporting resources in microgravity.
Free flying satellite laboratories: a game changer for pharmaceutical companies
At this stage Dr Kessans's space laboratory is designed for a process called protein crystallisation. There are several things that science has established are better done in micro or zero gravity. Protein crystallisation is one of them.
When a protein crystallises in microgravity, as opposed to on Earth, the result is often larger, higher-quality crystals, which allows for a more accurate picture of that protein. This knowledge better equips scientists to understand that protein, and pharmaceutical companies use that information to make more effective medicines to cure disease.
Find out more about protein crystallisation in this Nasa blog and video.
Although protein crystallisation has been performed for decades in space stations, it has not been done in nano-satellites. This presents a cheaper and faster way to conduct the research that helps develop drugs and is therefore, a game changer for pharmaceutical companies.
For Dr Kessans, this is just the first step in testing the micro laboratory in space and building the relationships required to launch. Once this is working, Dr Kessans will also be able to start developing the technology to grow microorganisms and other living things in a similar set up in lower orbit:
"Once we get protein crystallisation down pat, what I'm really keen on is growing other stuff in space," she says.
Collaboration key to 'ride-sharing' into 'New Space'
Aotearoa is now a major player in the global space industry and characterised in a 2019 report as 'New Space driven'. This means it's a mix of start-up, entrepreneur-driven and privately funded space companies drawn to Aotearoa's abundance of remote launch locations and clear skies.
Dr Kessans credits their first launch to collaboration within the unique Aotearoa space system:
"One of the nice things about being in New Zealand is the amazing companies that have recently started up here. We have working relationships with several companies across the industry who have been integral in the development of our payload (protein crystallisation laboratory called 'Lucy', see image), and we're looking forward to working more closely with launch providers such as Rocket Lab and Dawn Aerospace as our programme matures."
Her team's first launch is planned for later this year and will be the first of many. Dr Kessans says working with others allows her team to focus on the highest impact technology, she explains:
"We've partnered with researchers at Arizona State University and a UK company to integrate our payload in their CubeSet bus (meaning putting our technology into a launch ready container they've built) and we're now set to launch with SpaceX."
"We are essentially ride-sharing into space. It leaves us to focus on the really cool science.
"It's a very exciting time in New Zealand for this tech. The whole space ecosystem is coming together."