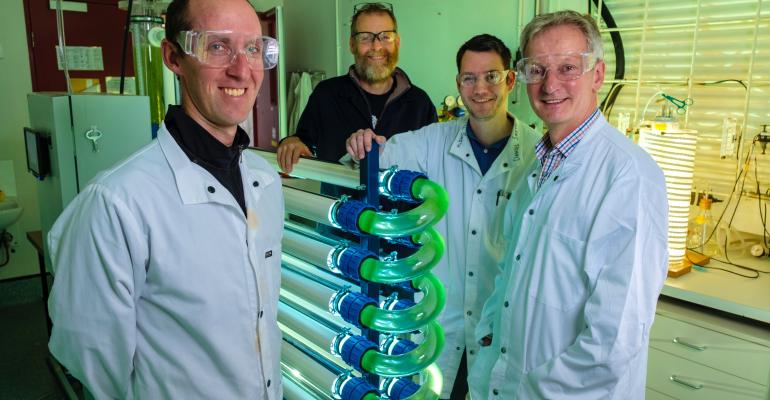 Dr Phil Novis
Superfood in a tube
They eat them – mostly in the form of algae and plankton.
SfTI researchers Dr Phil Novis of Manaaki Whenua-Landcare Research and Ken Morison of Canterbury University are partnering with Awarua Rūnanga and Te Rūnanga o Ngāi Tahu to assess the potential of a new strain of algae with very high EPA levels that's been found at Awarua, a Southland wetland.
Eicosapentaenoic acid (EPA) is a high-value, omega-3 polyunsaturated fatty acid, and the new alga currently known as Trachydiscus Awa9/2, has high levels of EPA. It has not been found anywhere else in the world to date, and its closest known cousin was found in cooling ponds from a nuclear reactor in Europe.
"But that doesn't make the strain a Frankenstein," Phil says.
"...that doesn't make the strain a Frankenstein."
"It's just that the water in ponds around the reactor maintained a steady temperature of around 20 degrees, and we've found through our trials that 20 to 25 degrees is the perfect temperature for our strain too."
Phil says that although 20 degrees is pretty warm for a Southland wetland, the floating mats of Sphagnum moss in the pond which houses the highest numbers of the algae, can reach these temperatures on a sunny day.
With SfTI funding, the team have turned their efforts toward investigating whether the algae can be grown successfully on a commercial scale. Phil says harvesting around two litres of the algae would give you about the same levels of EPA as you'd find in a fish oil tablet.
...around two litres of algae would give you the same EPA as a fish oil tablet.
"EPA is essential to human health. Those tablets are worth hundreds of millions of dollars a year in the US market, but they come with some big problems, like serious over fishing, the risk of mercury and other contaminants also found in the fish, and they're obviously not suitable for vegetarians and vegans.
"Algae is the only plant source of EPA, and that's where the fish get it from, so it makes sense to investigate the potential for harvesting it commercially."
Phil says to reach commercial scale several tens of thousands of litres of algae would need to be grown successfully – a large investment.
The team have so far succeeded in growing and harvesting the algae in four 1 litre airlift bioreactors in which light, temperature, and oxygenation rates are controlled and tailored to produce the ideal algae-growing soup. The algae is kept circulating and mixing, but Phil says the next stage of moving up to an 80-litre scale is not as simple as just getting bigger tanks and keeping all the other parameters the same.
"If we did that, the algae in the middle of the tank wouldn't grow as well as the material on the outside, which is closer to the light."
The team's solution is to grow the algae in a series of snake-like tubes, which requires a great deal more space. That apparatus has recently been built with SfTI funding.
"The question now is how many milligrams of EPA can we get per litre of algae, per day when we've scaled the operation up, and how much does it cost to produce?"
"...the question now is how much does it cost to produce?"
With these answers, the team may be able to take the next steps toward commercialisation.
Phil says a variety of end products are possible, such as a food supplement, which would be much better for EPA than the already popular Spirulina, but that other products, like feed for aquaculture could be easier to achieve from a human health regulatory point of view.
In the meantime, the science continues. Phil says the next step after successfully cultivating at 80 litres would probably be to establish a thousand-litre facility.
"That's still research-sized, but would bring us closer to the magnitudes needed for commercialisation."
Top image: Manaaki Whenua phycologist and SfTI researcher Phil Novis PhD with University of Canterbury technician Graham Furniss, PhD student Daniel Smith, and SfTI team member Associate Professor Ken Morison at the University of Canterbury lab in which the algae is cultivated.
Images for Manaaki Whenua by Bradley White.