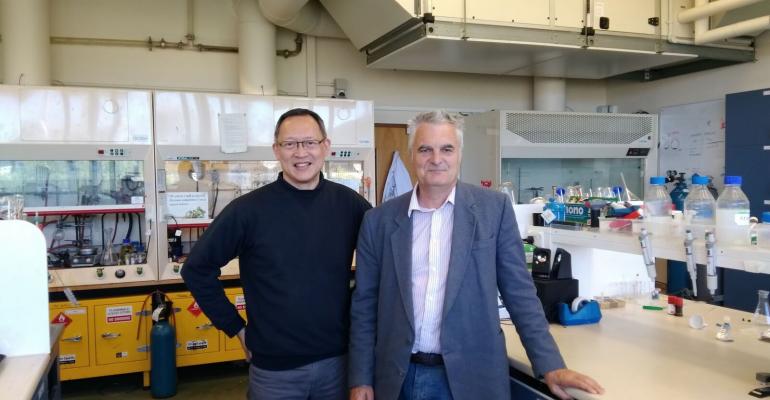 Associate Professor Stephen Moratti and Dr Eng Wui Tan
Materials, manufacturing and design
Contact Steve Moratti to express your interest in his project
In SfTI's 2016 SEED funding round, Otago University chemists Dr Eng Wui Tan and Associate Professor Stephen Moratti received $100,000 to investigate developing materials that would act as drug reservoirs, but only release some of their payload on appropriate stimulation.
The research involved chemically linking Dr Tan's work with nanoparticles and Dr Moratti's work with stretchy gels.
Initially, the research targeted the treatment of brain cancer. The team quickly realised any surgery or treatment where localised, long term drug release would be an advantage would be a possible target, if it could be shown that pulsatile release would be beneficial.
The project ended with confirmation ultrasound or pressure release of drugs from the gels was possible, Dr Moratti says.
"Without stimulation no release is seen, whereas mild ultrasound results in a fast burst release of our model drug."
Next steps for the research will be to show that the drug release works in animal models, and to refine the doses and ultrasound intensity.
"We would then move to animal tumor models to show an improvement in outcomes compared with conventional treatment. To do this we intend to apply for further MBIE funding through the Smart Ideas mechanism."
Dr Tan and Associate Professor Stephen Moratti's work was recently featured in NZ Doctor Magazine.