Clean Water Technology for restoring Te Mana o te Wai
A team of multi-disciplinary researchers, in partnership with Māori, iwi, councils and industry are developing new technology for treating wastewater, with a mission to improve freshwater quality and restore the health of our awa (rivers) and streams.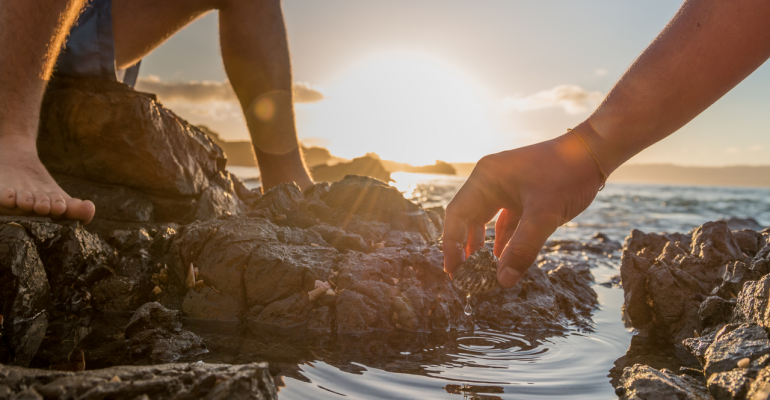 Snapshot
In partnership with Māori and water sector representatives, team of researchers are developing novel, innovative treatment media for wastewater filtering systems.

The research team is employing 3D printing techniques and additive manufacturing, drawing on mātauranga Māori, and using some waste materials to develop more sustainable, cost-effective and biodegradable solutions.

The project will see biofabricated wastewater treatment filters and biological carriers developed as a 'proof of concept' in the lab with field trials to follow in the third and final year.

It kicks off as the Government introduces new initiatives to improve freshwater quality. The use of biodegradable materials could improve the economics and sustainability of wastewater treatment at a time when billions need to be spent around the country to upgrade wastewater treatment facilities.
Technology to create a sustainable water pollution solution
'Clean Water Technology for restoring Te Mana o te Wai' is a Spearhead project that brings together researchers from across seven national institutions and with one international collaborator. They will work together on a three year, $3 million project to develop new materials for wastewater filtering systems, focusing on nutrients as the target pollutants.
The team will prototype new, biodegradable filtering media - the materials that are used to extract pollutants such as nutrients like nitrates and phosphates that make their way from under-performing wastewater treatment plants as well as runoff from farms into rivers and streams and which can damage freshwater ecosystems.
Stretch science - new technology for impact
"We wanted to create the biggest impact possible. That's why we're going to develop the innovative media that could be applied to many treatment technologies rather than focus on improving or developing just one such technology. This affords an opportunity to provide a monumental impact on the health and wellbeing of our waterways."
The SfTI project will fund six PhD scholarships with O'Sullivan calling on students to join the team's mission of returning Te Mana o te Wai to our ecosystems and tangata whenua.
Technology for reducing the costs of improving stormwater treatment
The Government's Essential Freshwater package introduced in September features new rules and regulations aimed at improving freshwater quality within five years and over the longer term, to reverse past damage caused by pollution.
O'Sullivan's research convinced her that a focus on wastewater treatment materials was the key to making the biggest gains in the shortest period of time. With around 60 percent of freshwater treatment facilities failing to meet the new regulations, billions of dollars will need to be spent to upgrade publicly-owned treatment plants that discharge into freshwater ways.
The cost of improving stormwater treatment in Auckland alone has been estimated at between $179 million and $1.3 billion.
"Clearly, technologies that contribute to reducing capital and maintenance costs alone would be of great economic benefit," says O'Sullivan.
The project will aim to address the shortcomings in media used in those wastewater treatment systems. Wastewater treatment plants currently rely on modified materials such as activated carbon or more commonly plastic biofilm carriers (for growing microorganisms, i.e. bacteria) to treat wastewater. At the same time, technologies to treat other wastewaters, such as farm runoff, are currently limited. Their efficiency is variable and many of the filters end up in landfill at the end of their lifespan.
"There have been trials of natural materials, but they typically don't remove more than 55% of nitrates and can have some intended consequences like leaching tannins," O'Sullivan says.
Current wastewater treatment media have unresolved challenges around heterogeneity of the filter media, their high cost, unsustainability and the significant level of pre-treatment required to help improve treatment effectiveness. We think we can help overcome these and help enable wastewater treatment plants and other industries to tackle water pollution issues in a more reliable and sustainable way.
3D printing of biodegradable materials will be employed to overcome current limitations in so-called bio-carriers employed in wastewater treatment. These production techniques allow the team to optimise the geometry and surface properties of the filtering media to target different types of pollutants in the water.


Ko te wai te ora o ngā mea katoa, water is the life-giver of all things
Rivers and lakes are integral to Māori cultural identity. Their health and wellbeing is intrinsically connected to the health and wellbeing of whānau, iwi and hapū. As the Whanganui pēpeha recites – Ko au te awa, ko te awa ko au, I am the river and the river is me.
Whanganui iwi leader Ken Mair, who supported and helped create the values and principles for project development discussions with Māori, says:
"It is extremely important to have values to leverage from to ensure that the right of the water is upheld and the first right goes to water in any [research] project. I think there is an in-depth understanding that water is life and that Māori, iwi, hapū values underpin that."
Underpinning the project has been strong co-development with iwi, consultation on natural materials and the input of indigenous scientists and mātauranga Maori.
"We have been so fortunate to be able to work with Maori researchers who have deep expertise in this area, such as Craig Pauling from Ngai Tahu. During the research development phase, Troy Brockbank (Te Rarawa, Ngāti Hine, Ngāpuhi) who is an urban stormwater engineer/Kaitohutohu Matua Taiao and on the board of Water New Zealand, provided valuable feedback," says O'Sullivan.
"We plan to use the steps of the He Poutama Whakamana cultural engagement approach to demonstrate how mātaraunga Māori can inspire, inform and improve technical developments and product design," she adds.
Technology with potential social and economic impact
Development of the prototype water treatment media will be followed in the third and final year of the project with field trials that subject them to a Life Cycle Assessment to see if they can support a regenerative (circular) economy.
If successful, the new media could supply a wastewater treatment products market projected to be worth $314 billion globally by 2025. There's also scope for the technology to inform air treatment systems as well in the future. O'Sullivan says:
"We need to be able to swim, fish, gather mahinga kai (indigenous freshwater species used for food) and enjoy freshwater as our whakapapa (ancestors) did. We also need clean water to drink and irrigation to support a sustainable economy. That's why we are so passionate about this project. We know we can employ innovative approaches to help make a difference."
Project background information
This Mission-led Spearhead Project commenced in February 2021 and will continue for two years to a total of $2M. The project will be subject to a review for further funding available during the National Science Challenges 10-year term, 2014-2024. Find out how we develop our Mission-led projects.