Reality TV meets hi-tech science
15 July 2021 | Read time: 7 minutes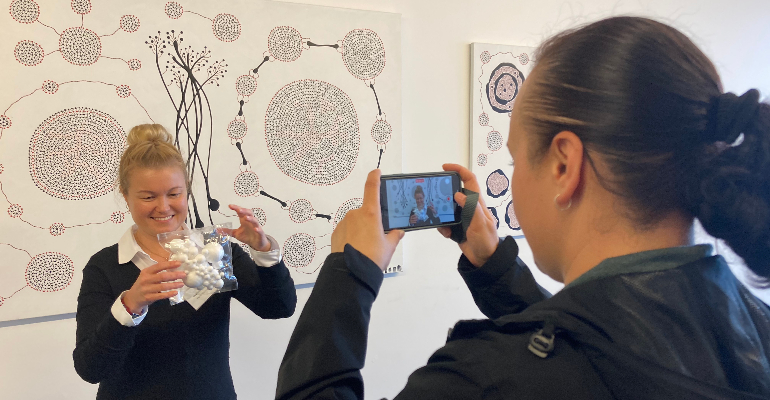 Meet Baz Caitcheon and his workshop participants, who talk about what it takes to communicate science to the masses
Video storytelling to take cutting edge ideas out of the lab and into the real world
"Scientists are always passionate, but are often in their own world. They have such a deep level of understanding, to ask them to condense that down to a sound bite is hard. But it's possible to do it in video format with a smartphone. And it is worth it. Sharing the potential of ground breaking science is so critical to our future," said Baz Caitcheon.
Putting the emotion into scientific discovery
Baz's background as a producer for reality television means that he is highly skilled in identifying content that will emotionally engage. It's this emotional connection that is required to hold an audience's attention and communicate complex ideas.
"What we are asking these researchers to do is to take their super complex science and condense it down into a couple of minutes or less and to really tell us what their work is about and why we should care," Baz said.
These foundational storytelling skills are not just effective for TV and entertainment, but for any situation where a researcher needs to bring an outsider into their world. Baked into Baz's informal and hands-on workshop were the central skills of connecting.
"The most important thing is to think of your audience first, and pitch to that. Ditch the technical terms and keep it really simple," he said.
Workshop participant and SfTI researcher Dr Leonie Jones (Ngāpuhi, Ngāti Kahungunu ki Wairarapa), whose work focuses on nitrate sensors to improve river quality, felt it was important to be able to talk about your work in a non-scientific way.
"For me it is about becoming a relatable scientist - being able to converse with a non-scientist and get them to understand your work to a deeper level where they can see it's real impact," said Leonie.
Watch Leonie's video:
Taking transferable skills back into the science system
Taking time out from gruelling research and teaching schedules to learn a new skill, is not easily done for the hyper focussed scientists that make up the SfTI community. It was clear, however, from those who attended the workshop that the benefits were several fold.
SfTI researcher, Deanna Ayupova, a PhD working towards a non-invasive diagnostic tool for lung cancer said that the workshop had not just taught her new video making skills but was an opportunity to talk about her work with other researchers and make connections. Deanna had also taken up the opportunity to join SfTI's Science Leadership programme, which focuses on resilience as well as leadership skills.
"Doing the leadership course has been amazing and this video workshop has been invaluable for me. I am not only developing a better way of communicating about my research with a non-specific audience and sharing my research, I am also networking and meeting potential collaborators," she said.
Conor O'Kane from SfTI's Building New Zealand's Innovation Capacity Spearhead Research project felt that the skills he was learning were invaluable to his research and those around him.
"I want to be able to concisely communicate impact and why research is interesting and relevant to people who are not me!" he said.
"I can also see that for anyone in research or teaching or even entrepreneurs, having the ability to pitch your idea with a concise video story is very valuable. Right now anyone in New Zealand who is looking to pitch their work or ideas to an international audience needs to be able to do this," said Conor.
Conor worked with PhD candidate Lui Holder-Pearson from Canterbury University, who could see how this course would improve his teaching.
"During and since COVID I have been doing so much more online teaching - and this will help with that - these skills are insanely transferable to being a better teacher - making better teaching content and even reporting," he said.
Watch Lui's video:
"One of SfTI's key objectives is to grow the capacity of Aotearoa's research community by making professional development activities more accessible to our community. We are not just there to support research, we are there to support researchers as well. We recognise that it is the people who are key to building a more prosperous future for New Zealand through high tech science."