Let's turn those buoys into real-time mussel sensors
6 December 2019 | Read time: 5 minutes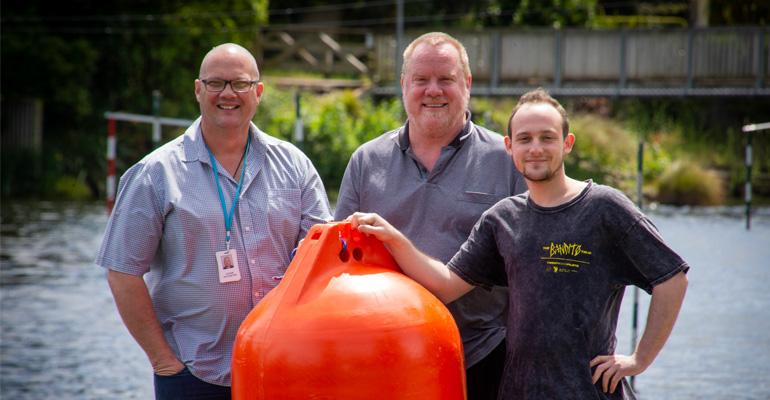 A collaborative research project to improve monitoring of offshore mussel farms has moved to its next phase with sensor-laden smart buoys undergoing testing in the Marlborough Sounds.
New Zealand has around 645 green shell mussel farms around the country, with the largest being well over 20 hectares and made up of numerous longlines that in turn support thousands of meters of crop line that the mussels attach themselves to. Keeping the industry afloat, literally, are buoys, that hold the longlines up.
There can be 50-70 buoys per longline, so thousands of them are bobbing around mussel farms from Auckland to Coromandel, Marlborough to Southland.
Spin-off research from the Precision Farming Technologies for Aquaculture Spearhead Project within the Science for Technological Innovation National Science Challenge, led by Cawthron Institute, and facilitated by the University of Auckland-based NZ Product Accelerator, has sought to turn those buoys into real-time sensors that monitor the state of mussel farms.
"A dairy farmer can walk out and look at the cows. A mussel farmer has to go out in a boat and pull the lines up," explains NZ Product Accelerator's Business Development Manager, Brian McMath.
"It is about trying to provide farmers with data even when they aren't anywhere near the mussel farm."
Key to that has been turning a Sanford mussel float, into a communication and sensing device. Professor Johan Potgieter at Massey University and John Futter at GNS Science have tested, in water tanks at Massey, floats equipped with the Internet of Things (IoT) sensors.
"They'll tell you if the float is sinking beneath the surface, which could be an issue to do with how they are tethered or increasing weight of their crop. There's the potential to add more sensors, to turn the float into a multi-sensor array providing a variety of valuable information to the mussel farmer," says McMath.
Sensors could also monitor water turbidity, temperature and ocean acidity, which mussel larvae are sensitive to. A low-power IoT network from technology provider Sigfox connects the sensors in a network and communicates the data back to shore.
Integrated with water quality data collected by high-tech coastal monitoring buoys, such as Cawthron's TASCAM in Tasman Bay, the smart floats promise to offer each farmer insights into the exact conditions at individual mussel farms.
The ultimate goal for the patent-pending technology is to build it into floats, making it cost-effective to deploy at scale.
"The increasing need to create more value with our finite marine resources requires improved real-time knowledge of our stock in the water," says Sanford chief executive Volker Kuntzsch.
"Furthermore, enabling more efficient and sustainable sensing/harvesting/farming methods in our big blue backyard will enable New Zealand to lead the way to 'doing the right thing' by example. NZ Product Accelerator is a great partner in helping us achieve that," he adds.
Ensuring the technology performs in the tough marine environment is a crucial test for the smart floats, which Professor Potgieter and Mr. Futter will develop further in Phase two of the Precision Aquaculture Spearhead project.
"This is SfTI's strength, we engage in science that tackles hi-tech challenges by bringing together researchers, business, and Māori organisations," says SfTI National Science Challenge Director, Professor Sally Davenport.
"The next phase of research will seek to validate the work to date and hopefully lead to the technology being made available, and potentially exported, to mussel farmers seeking more timely information about their farms."
In September, the Government unveiled the New Zealand Aquaculture Strategy, which aims to grow aquaculture sales to $3 billion by 2035, from $600 million in 2018.
The strategy includes efforts to increase farm efficiency and environmental performance, with innovations such as the smart buoy technology emerging from the SfTI National Science Challenge expected to play an important role in pursuing the ambitious target.