Precision farming technologies for aquaculture
This Spearhead project is developing underwater sensing and communication tools and data analytics to let farmers monitor their ocean farms from home base.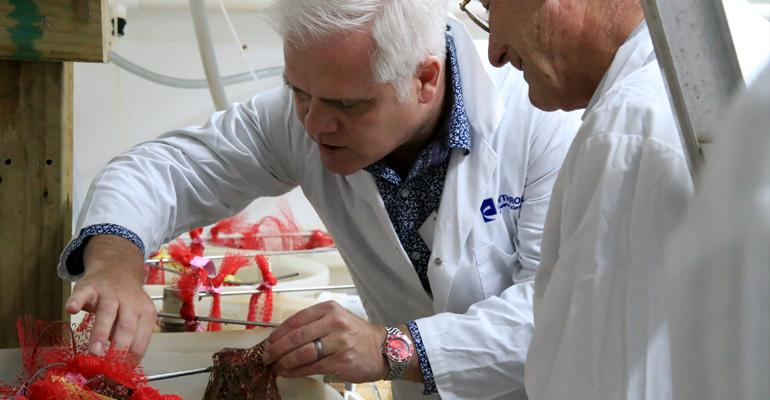 Team
The project involves additional researchers from Cawthron, GNS Science, Product Accelerator, the Universities of: Auckland, Canterbury, Massey, and the Victoria University of Wellington.
The team are also working on a spin-off project with NZ Product Accelerator and Prof. Johan Potgieter (Massey University) to improve monitoring of offshore mussel with sensor-laden smart buoys. Read more
Snapshot
Our thriving aquaculture industry is looking to new 'precision' technology to allow the growth and efficiencies that will take it to the next level.

The team has already developed working communication prototypes which will be refined and tested in the next phase of their work.

By 2022, the team aims to have sensors and communication systems available that could help our marine farmers and be commercialised for export overseas.
Making the most of our oceans' bounty
Aquaculture is one of New Zealand's fastest growing export industries, with our Greenshell Mussels, King Salmon and Pacific Oysters in hot demand all over the world. Innovation is needed to enable the industry to reach and exceed its ambitious target of $1 billion in revenue by 2025, up from $500 million in 2016.
Innovating with precision aquaculture
One area of innovation that will help us get there is precision aquaculture, which much like precision agriculture does on land, applies technology and data-driven decision making to achieve more efficient management of farms.
On land that might mean using drones to test soil moisture from the air, automating irrigation systems or using GPS-equipped combine harvesters. That revolution in farming is now being applied to the marine space by a SfTI team led by Chris Cornelison from the Nelson-based Cawthron Institute.
Together with scientists from across New Zealand's universities, the team is developing technologies in sensors, communications and data analytics, with the aim of making aquaculture a high-tech, knowledge-based industry.
Precision aquaculture – how will it work?
Salmon and mussel farms are at sea and submerged, so farmers typically spend a lot of time on boats and barges observing their marine farms and checking gear and crops. Weather and availability of boats and labour can interfere with efforts to keep tabs on the farm.
The project aims to provide farmers with on-farm intelligence on demand, enabling quick farm management decisions. The technologies being developed will allow for remote monitoring of farm structures, stock numbers, health and condition, letting farmers 'see' their farms from a tablet or smartphone.
In doing so, it will enable farmers to operate larger farms in challenging offshore environments by deploying remote monitoring and automated technologies to help manage them in an efficient and sustainable manner.
The technology includes above and below water imaging sensors, sea-to-land communication links and data analytics to make sense of everything coming back from offshore farms.
Technology to monitor New Zealand's coastal waters
While helping the New Zealand aquaculture industry grow, there's scope for the technology to help manage dredging activities, shipping and biosecurity threats in ports and harbours and collect data useful in tracking the state of New Zealand's coastal waters. The team ultimately want their advanced sensors to join the export market as Kiwi precision aquaculture innovations head offshore to aid the accelerating growth of aquaculture worldwide.