Successful science needs resilient researchers
24 February 2021 | Read time: 5 minutes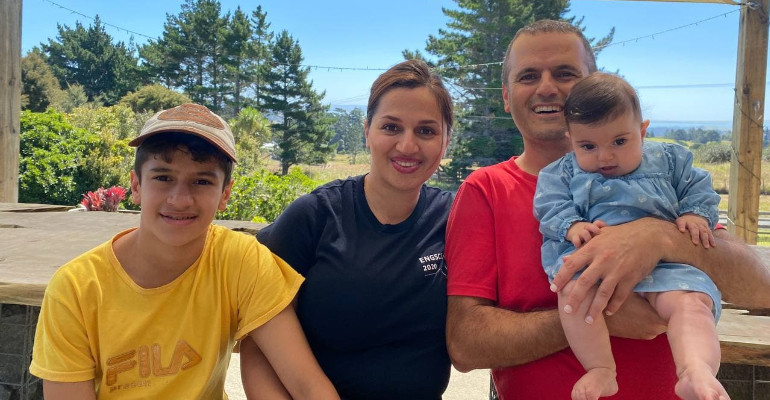 A career in scientific research is associated with long hours and periods of intensity. Dr Maedeh Amirpour, an advanced materials modelling and multi-physics simulation scientist based at the Faculty of Engineering at the University of Auckland, and member of the SfTI research community, feels it is important to find joy in your life outside work to be successful in your science. She feels her opportunities with SfTI have not only furthered her research career, but helped her find ways to work towards balance.
Being a scientist, a leader and having a life
Maedeh is currently learning to be a science leader with her four month-year-old on her lap. For Maedeh, this is the level of multitasking required to reach her research goals. She is currently taking part in the Science for Technological (SfTI) National Science Challenge - Science Leadership Program whilst on parental leave with her second child, Hannah.
"As a parent and scientist, at the beginning it was challenging. I tried to do my most important work when I was least distracted. That meant waking up early or working very late. But staying up late into the night trying to do deep-focus work before waking up to start another long day just isn't sustainable for months on end".
"Any help balancing life with our work is valuable. To be able to take up the opportunity of the Science Leadership Programme while I'm on parental leave is just one way I can continue to work towards my scientific goals."
Leadership and life skills makes for successful researchers
The Science Leadership Programme is part of SfTI's Capacity Development Programme for researchers. It is run by NZ Leadership Coach, Lawrence Green, and looks to build confidence in decision making, navigating complex issues and influencing others. These are the skills Maedeh not only needs to lead her team, and in teaching, but she feels they can enhance other elements of her life as well.
"It's not just your leadership skills but there is coaching which can really help with building confidence in managing your personal life too."
Find out more about SfTI's Capacity Development programme
Reducing barriers to developing cutting-edge research
SfTI aims to reduce barriers for early career researchers whose work has the potential to lead to hi-tech breakthroughs. Building skills to navigate these barriers and grow resilience to support scientific success, is a key objective of the SfTI Capacity Development programme.
This year SfTI is also offering a Proposal Development Grant (PDG) for those who are applying for our 2021 Kaupapa kākano Seed project fund. In recognition that writing a research proposal is very time consuming on top of existing work loads. Maedeh stresses how important it is to spend time on developing proposals to further your work:
"Developing a good proposal is absolutely important. No matter how unique your idea is, if you can't sell it in the form of a proposal - it's not going to work. For me, I would not have received a grant in the past without getting advice from my academic head and can take months of to and fro to develop. This time is hard to find."
The SfTI PDG if awarded is paid directly to your employer and can be redeemed for support in developing the proposal, including support to develop proposal writing skills or childcare to create time to write the proposal.
The 2021 PDG grant applications closed Friday February 26th.