Additive manufacturing and 3D and/or 4D printing of bio-composites
'Additive' manufacturing harnesses New Zealand's natural resources, using biopolymers or plant and wood fibers to create new, more environmentally friendly materials and products. These materials can be used in 3D printing to reduce plastic waste or in new 4D printing that allows what is made to shift and respond in a 'natural' way down to the molecular level.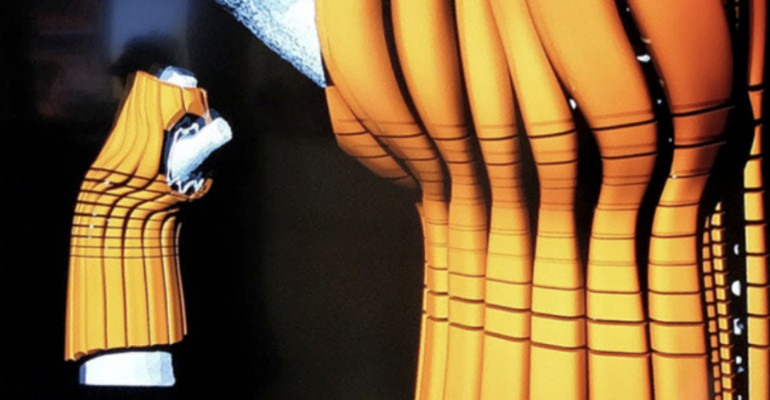 This Spearhead team is at the forefront of developing and combining biopolymers with novel 4D printing technology. This can be used to make everything from medical prosthetics to architectural structures, to furniture.

The project has the potential to fuel the bioeconomy and assist Māori to sustainably grow their design manufacturing businesses.

By collaborating with designers, this Spearhead has facilitated a design led approach to early stage research which puts the end user at the forefront.
Beyond plastic - harnessing nature's building blocks
Customized biopolymers are materials derived from polymers found in nature, such as proteins, cellulose and lignin. Most of these polymers in Aotearoa-New Zealand will come from renewable feedstock. We are well-placed to play a leading role in the bioplastics revolution as we have numerous sustainable feedstocks available to us.
We also have a thriving manufacturing sector, which is increasingly experimenting with 3D and 4D printing techniques.
This work has the potential to create a circular bio-economy, where natural materials form the building blocks and smart manufacturing techniques create fit-for-purpose products across multiple industries.
The researchers are guided by three principles:
Nature wastes nothing – One organism's waste is another's food

Nature is able to transform – Static is a human concept

Nature is an exceptional artist – Structures in nature are inspirational
Nature has the answers. Now our team continues putting nature to work for a more sustainable future.
Additive manufacturing - how does it work?
The new approach to making things involves 'additive' manufacturing, which uses industrial printers to add successive layers of material to create an object, based on digital 3D design plans. It allows for great precision and efficiency in manufacturing. But to date, the range of materials available for use in 3D has been limited. This SfTI Spearhead project is changing that by creating new types of biopolymers that are suitable for a wide range of industries and coming up with novel 4D printing technology.
What is 4D printing?
While 4D printing involves the same manufacturing process as 3D printing, it adds an extra dimension – the materials can change shape and form over time after they have been made. They may respond to temperature, humidity, pressure, and even sound in ways that their designers pre-determine.
Developing new materials suitable for printing involves getting to grips with new methods of engineering cellulose, proteins and microfibers that need to be aligned and layered to create objects.
You can learn more about the team's exploration into the effects of 3D printing on plastic with added cellulose here. Also, watch their 4D printed plastic and cellulose tree stand up when triggered by moisture and temperature changes.
The freeform printing possibility with the developed techniques also avoids waste and off-cuts. The project has successfully designed new printers, printer heads and printer materials. These will be exhibited in Wellington, New Zealand shortly.
4D printing with bio-material
A team of researchers and students are laying the groundwork for new concepts and technologies developed in the lab. They are developing materials for 4D printing and designing new printers to handle these types of bio-materials.
One of the most exciting projects the team is working on is building a machine that can electrospin collagen on a microscopic level. This machine will be used in a related project to print a cornea that can be transplanted onto a human eye.
Another project is to design a sunshade, using bio-based material that responds to the angle of the sun, much like flower petals do when they follow the direction of the suns rays.
By 2025, the SfTI team plan to have developed at least two 4D printed product prototypes, with a focus on industry applications where New Zealand exports can be generated.
Design led science
The Spearhead team is working closely with design students from Victoria University of Wellington Design School and designers from industry to reimagine products of the future which employ the bio-materials and printing techniques being developed by the research team.
During collaborative sessions including designers, material scientists, fashion entrepreneurs, PhD students, agricultural business representatives and architects, the Spearhead has identified potential product areas where the 4D printing methods and biopolymers would deliver impact. Examples include:
Medical applications (Customized wheelchairs, Prosthetics)
Waste reduction (Using plastic waste as feedstock for home printing)
Packaging (Including specifically designed for drone delivery)
Housing (3D printed houses, 3D printed temporary shelters, customized sun shades, self-healing bricks)
High performance sports (helmets, shoes, injury recovery, self-healing)
These ideas among others, will be further developed in consultation with industry.
Project background information
This Spearhead Project commenced in 2016, ending in June 2022 and has received a total of $5.5M funding. The project was initiated through a process whereby a cross-disciplinary group of academics and practitioners came together to design research projects with the aim of supporting solutions for some of Aotearoa-NZ's grand challenges.