Ātea
SfTI researchers are designing and building Ātea, an immersive experience that draws on Māori protocol and world views as well as new technologies to preserve and share knowledge, language and culture in the digital realm.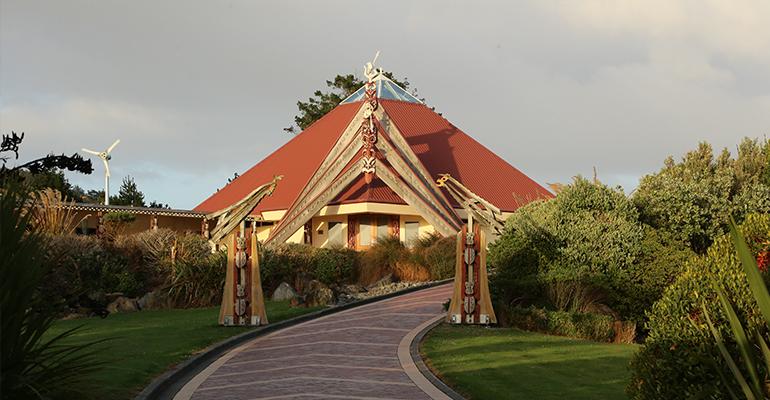 Snapshot
Ātea incorporates augmented, virtual and mixed realities to share history, knowledge and stories, with a customised content management system to connect dispersed communities.

This Spearhead project is engaging widely with the research sector, industry and iwi and taps into the growing Māori digital economy.
Creating a Māori experience in the digital realm
This Spearhead project emerged from a Science for Technological Innovation (SfTI) workshop, where Te Whānau-ā-Apanui tribal leader Rikirangi Gage posed an intriguing question:
"What if in 200-300 years' time I was able to be a hologram and my mokopuna could sit there and talk to me and I could explain, for example, how the Star Compass worked. Wouldn't that be awesome!"
That vision motivated University of Waikato Associate Professor Dr. Hēmi Whaanga to develop the concept of Ātea, a digital space that uses new technologies and novel approaches to enable Māori to interactively engage with their language, culture and knowledge. The multidisciplinary project team has designed an immersive experience for future generations, addressing the Vision Mātauranga goals of the SfTI Challenge, to connect dispersed Māori communities.
Ātea is a research project leveraging technology to create a Māori digital ecosystem that provides a platform for cultural and digital aspirations
Ātea's unique approach to building this digital space is broader in scope than any similar project completed to date. The team aims to provide innovative ways for Māori to connect to their reo, whakapapa, whānau, iwi, and cultural knowledge.
Ātea advisors pose fundamental questions during design and development. Notions such as "Does AI have a wairua (soul), or a mauri (life force)?" are examples of the concepts that need to be addressed.
The opportunity to collaborate with various industry, community, and iwi groups, will support the development of workable long-term outcomes. The Ātea Spearhead, therefore, presents novel and unique methods of engagement and presence for Māori while providing sustainable digitally-based economic development opportunities.
Creating a Māori experience in the digital realm
The project has so far created an experience where users wear a virtual reality headset to explore a 3D recreation of the Te Rau Aroha Marae built from thousands of digital images. The user can access the meaning and stories behind the Wharenui's ornate panels by watching and listening to a telepresence explanation.
As the project progresses, the team will develop the software architecture and infrastructure for Ātea, and the team's research base will grow to encompass more language, tikanga, histories and knowledge.
As the diversity and amount of content in the Ātea Core grows, the research and development will focus on incorporating non-text content forms, such as audio and video into the system resulting in sensory elements to the experience. So users will for example hear and feel thunder when it is described by the storyteller.
Work will continue on developing Reo Māori text-to-voice and Reo Māori AI processing capabilities in the Ātea Core.
With the support of partners such as the University of Otago's Department of Information Science and Canterbury's Human Interface Technology Laboratory (HIT Lab), research will investigate the types of interactive and remote presence models employed in Ātea to foster storytelling in a mixed reality environment.
In early 2021, initial trials with iwi collaborators have taken place at the marae to test the impact of the interactive, multi-sensory experience to understand how people experience Ātea.
Ātea in the media
Stuff:
A digital marae with far-reaching implications for the future of te Ao Māori in the tech sector
Read an article from Stuff about the project and the virtual marae they are building for those who whakapapa to Te Rau Aroha Marae - the world's southern-most marae located in Bluff. Published on the Stuff website 16 March, 2021.